Gage Gallery Exhibition
I went into the large space
drawings, photographs, poems
May 12-30, 2015
Opening and Book Launch: Friday, May 15, 7-9 pm
Bring a bag lunch iBook launch: Friday, May 22, 12-1 pm
Artist answers questions: Saturday, May 30, 3-4 pm
2031 Oak Bay Avenue | tues-sat 11am-5pm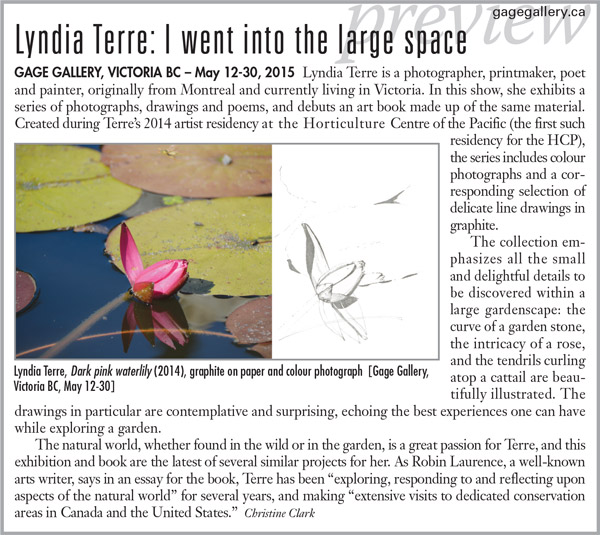 ©Preview April/May 2015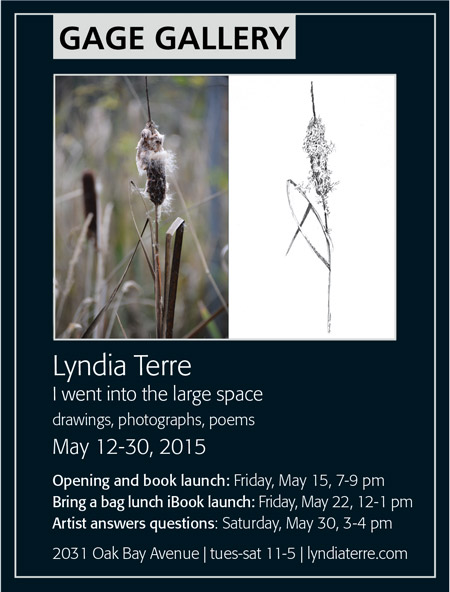 ---
LÚZ Gallery - IMPRINT: 2011
Opening: November 19, 1-4 pm
1844 Oak Bay Ave, Victoria
I am honoured to have a few of my photo-based art works included in this amazing show at LÚZ Gallery | for the photographic arts.
They are also carrying my latest book: "standing on the edge" designed by Janice Whitehead of Preview Graphics in Vancouver. It can be shipped to you if you are interested. It includes 9 colour images and four poems as well as a statement from both The Nature Trust of British Columbia and Diana Millar, gallery director of Luz, for thirty dollars USD or CDN (plus tax and/or shipping).
For those of you within commuting distance, I hope the weather is clear so that you can safely walk, cross the Malahat, take a seaplane or ferry and enjoy an afternoon in Victoria.
If you cannot visit this time, check the website of this top gallery for the photographic arts in Victoria. Think about a workshop, a lecture or just stop in and say "hello" to Quinton and Diana during the exhibit or in 2012.
OR catch the exhibit during the Oak Bay Gallery Walk on the evening of December 1st.
My work will be on display, with some pieces also hidden in the 'back' until December 22, 2011. Yes, I am VERY excited about this exhibit.
---
LÚZ Studio has moved
569b Hillside Ave (off Rock Bay), Victoria, BC
250 590-7557
www.luzstudios.com
---
Artist in Residence
Lyndia Terre is the first Artist in Residence with The Nature Trust of BC. The property she will be working on this year is Moorecroft, in Nanoose Bay, recently acquired with the Regional District of Nanaimo.
Parksville Qualicum News, August 9, 2011 (Article photo credit Cameron Wrigley)